CONTACT DETAILS

Corinne Barnaby
9, Arundel Close,
Hemel Hempstead
Herts. HP2 4QR
E-Mail: cojoba@ntlworld.com
Tel: 07561 111278


COSTS
The annual subscription is £40. Which is equivalent to £1 per week. The shop sells tools veneers and sundries at low prices.
Tea or coffee is 20p.


ACTIVITIES
We have an annual Group competition to exhibit our work. The winners of which go on to represent us in intergroup competitions with Harrow, Chelmsford and Redbridge Groups.
To advertise the craft of marquetry we attend local craft fairs and fetes.
Those members who join the Marquetry Society enter their work at the Annual National Exhibition which is the highlight of the year.


MEMBERS OLD AND NEW
Over the past forty odd years many interesting characters have demonstrated their marquetry skills at St Albans Group.

You will be pleased to know that a gallery of member's pictures – past and present, is now available in the following pages.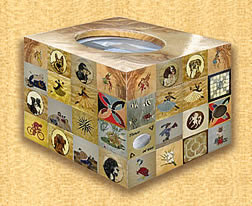 Box of Boxes
All is not what it seems!
(See Inter group competitions' page 4)
THE GROUP
The St Albans Marquetry Group meet every week from the beginning of September to the end of June to teach and continue practicing the art and craft of marquetry.
There is a lot of interaction between members who, after learning the accepted methods, share their own ideas to produce a desired effect. On the left you see an inter-group meeting at St. Albans with a few members from other marquetry groups.


DETAILS OF MEETINGS
We meet at The Greenwood Park Leisure Centre, Tippendell Lane, Chiswell Green, St Albans, on Wednesday from 7pm to 9pm.
There is an ample car park and for members who have no transport, we arrange a lift where possible.
(See map 'link' further down on this page)


BEGINNERS COURSE
New comers to marquetry are given a 14 week structured course, during which they are given one to one tuition on all the techniques of marquetry and parquetry.
All the veneers to produce their first picture are provided free from the group's shop.
Below is an example of a first picture.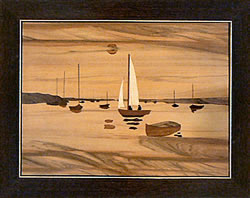 Picture by Mark Coffey
MEMBERS OF THE COMMITTEE
Chairperson:-

Enrico Maestranzi

Vice Chairperson:- Ivan Beer
Vice Chairman/Publicity Officer:- Ivan Beer
Secretary:- Corinne Barnaby
Treasurer:- Christian Cozon
Supplies Officer:- Bernie Grey
Committee Members:-
Alan Paynter
Mark Coffey
Ivor Bagley
Martin Bray