---
Room 20
The work of Independent Member Vic Small, Salzburg Austria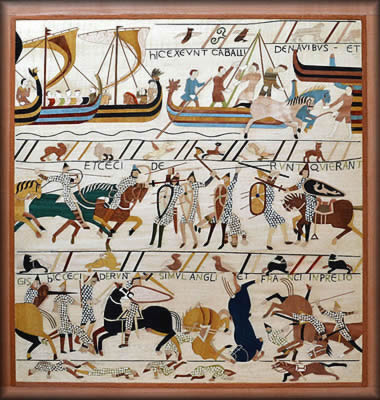 Scenes taken from the Bayeux Tapestry, commemorating the Battle of Hastings in 1066. The details were cut into a background of crown lime veneer. The lines and letters were produced by inserting veneer strips edgeways into slots cut into the background veneer. The scale is around one third of the tapestry. Size: 47x48cm.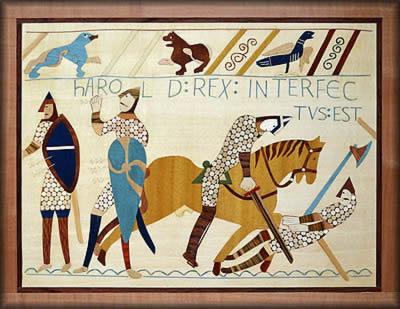 Another scene taken from the Bayeux Tapestry, close to original size, depicting the fall of King Arthur. The armour in this and the previous picture was produced by punching discs out of sycamore veneer and embedding them in veneer paste, a mixture of veneer sandpaper dust and PVA glue. Size: 44x34cm.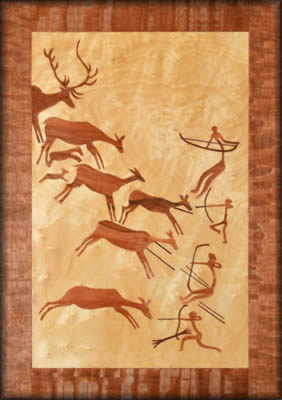 Representation of a cave painting in Cavalls Cave Valltorta, Spain. Deer are in pearwood, cut into a background of myrtle burr veneer. Size: 25x35cm.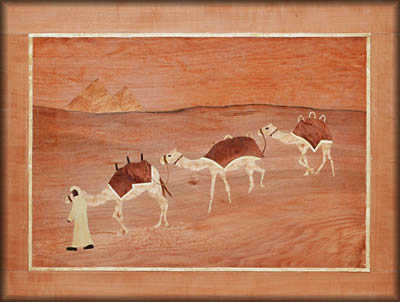 Camel train, using Santos rosewood as a background. Size: 37x28cm.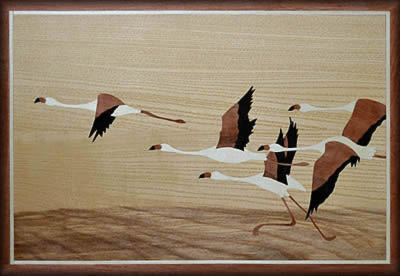 Flamingoes. After a pencil case by Craig Vandall Stevens. Background is olive ash. Size: 31x21cm.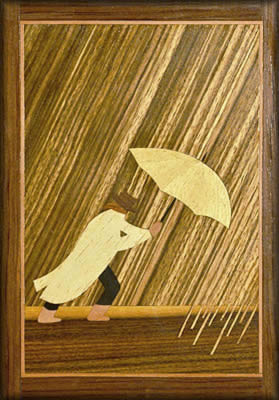 Man with umbrella. After "Autumn" by Hani Almalah of the Bexley Marquetry Group (original design by Peter White), but with the ground added. Background is zebrawood. Size: 16x22cm.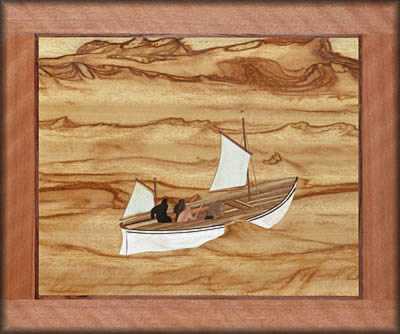 After a painting of the James Caird in a rescue mission headed by Sir Earnest Shackleton to save his crew stranded on Elephant Island in the Antarctic in 1916 (source: Wikipedia). Background is tigerwood. Size: 25x30cm.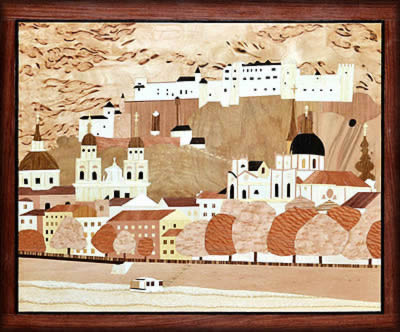 Salzburg, Austria. Size: 41x33cm.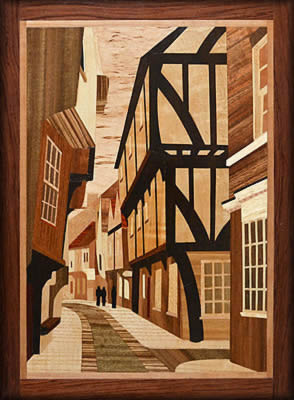 The Shambles, York. After a picture by David Hume in his book on "Marquetry". Size: 27x37cm.
| | |
| --- | --- |
| Klimt, "The Kiss". Size: 98x65cm. | Klimt, "The Kiss". Version 2 |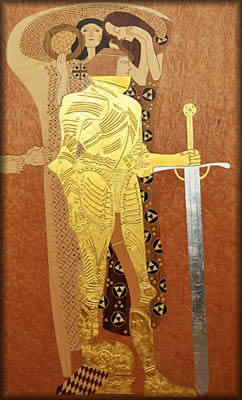 Section of the Klimt "Beethoven Frieze", with the armour plated in gold foil and the sword in silver foil. Size: 84x54cm.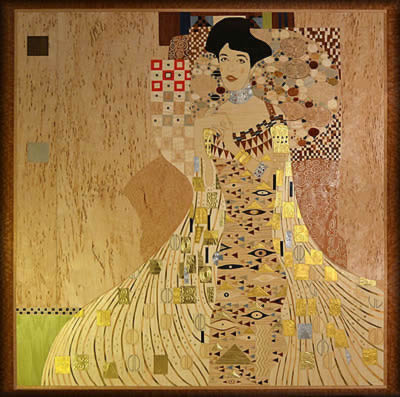 Klimt "Adele" (Adele Bloch-Bauer) "The Lady in Gold". Size: 91x93cm.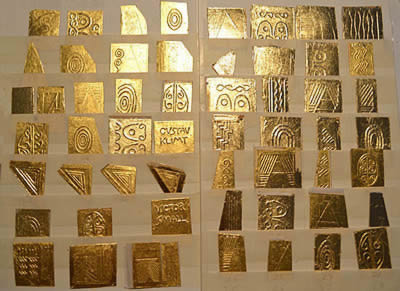 Gold inserts made on bamboo veneer used for insertion into the mounted Adele picture.
---
Page: 1 | 2 | 3 | 4 | 5 | 6 | 7 | 8 | 9 | 10 | 11 | 12 | 13 | 14 | 15 | 16 | 17 | 18 | 19 | 20 | 21
---