A Circular Marquetry/Parquetry Piece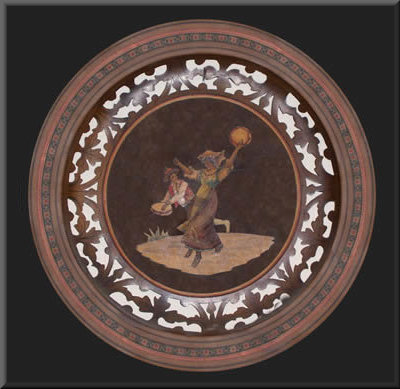 A circular platter combining both marquetry and parquetry
...............................................................
Further Text from Buchschmid & Gretaux's own literature
(Thanks to Sylvia Smith for kindly supplying the following B & G documentation)




The owners have divided the corresponding tasks among themselves, Mr Gretaux, the artist, creating the designs and Mr. Buchschmid, the artisan, controlling the execution.
How it is done:
The following description explains to you the process of making an inlay picture. The process for tables and trays is very much the same.
After carefully scrutinizing the possibilities of a scenery for the specific requirements of inlay work, Mr. Gretaux first designs the contours of the picture on transparent paper, in lines only, without shadows. Blueprints of this drawing are then cut apart into all the pieces which later in the finished product will show the different wood colours. Each one of these pieces of blueprint is then pasted onto selected pieces of the right veneer taking care of desired grain structure and direction, and on a jig saw cut to the exact shape according to the confining lines on the blueprint.
10 to 25 different veneers and 120 to 300 pieces in all are used for one picture. With tables the amount of pieces could be up to 1000. After cutting these pieces are assembled by gluing them onto a piece of paper in the reverse sense of the intended picture. Both this paper and adhering pieces of veneer are turned upside down and the veneer side put under heat and pressure, glued onto a basis plate with precisely uniform thickness, which simultaneously a compensation veneer is glued onto the backside, thus forming the visible reverse side.
After this gluing process the paper layer that shows now on top is carefully sanded away. Under it there appears the reverse picture in the reverse sense, i.e. same as the original drawing. The wood of the veneer is then sealed off against environmental influences in a way that the wood pores still show, and with them an inimitable feature of genuine wood. For tables a slightly different procedure completely seals the surface against attacks of spilled alcohol or other liquid, here the pores disappear under the finish, but the silk like impression of the picture's surface is maintained. Then the picture is framed, isolated against humidity seeping in and there is the finished product. Everything is handwork of the highest skill, all materials are of the very best quality available, all colours are natural wood shades with occasional sand burns for rounding effects.
There are 17 different pictures, some take upright (u), some broad (b), 10 trays and 6 tables in production; as well as book ends.
Pictures: Size 11 1/2" by 13 1/2"
1. Rothenburg St. George's Fountain
2. Rothenburg Marcus Tower
3. Rothenburg White Tower
4. Rothenburg Plonlein
5. Rothenburg Hegereiter House
6. Nurnberg Hangman's Passage
7. Heidelberg View
8. Ulm View
9. Frankfurt City Hall

10. Neuschwanstein Castle
11. Partenkirchen Florians Square
12. Landsberg Witches Quarters
13. Munich City Hall
14. Konigsee St. Bartholoma
15. Stuttgart
16. Quartett
17. Dinkelsbuhl Wornitz Gate
The following is on the reverse of the paperwork:
Large Pictures:
Poor Poet, Quartet, Bookworm, Good Friends, St. Bartholoma, Paris, Heidelberg, Neuschwanstein, Chrysanthemums with large margin
Religious Pictures:
Praying hands, the Lord, Last Supper
Trays:
Heidelberg View, Neuschwanstein View, Bavarian Tavern, Still Life, Fishtale, USAF wings
Bookends:
Book-keeper and Art Lover, Bookworm and Spitzweg, Castles
Tables:
Coffee table design Flowers, Roses, Four Seasons (matching end tables)
Card table, square, design, Chess Board and Rim, Round tables design Mercenaries, Flowers, Boughs of Flowers, Four Seasons, Bindweed, Fauna-Flora