This is page 2 of our Memory Lane feature where you will find lots more exhibits from
the early days of the marquetry movement and the formation of our Society.
To start this second page off, we have a special treat for you. It's a small Marquetry Society
publicity leaflet and enrolement form from 1954 - the year after the Society was formed.
Note the rather small size of the enrolement section. The leaflet itself is only 41/2" or
approx 11.5cms long - so you can judge how small it is.
Lower down the page you will find the Marquetry Society gold lapel badge.
A beautiful item in its own right, but now sadly unavailable.
You will also find an article featuring the London Group's 25th Anniversary
further down this page.
---
---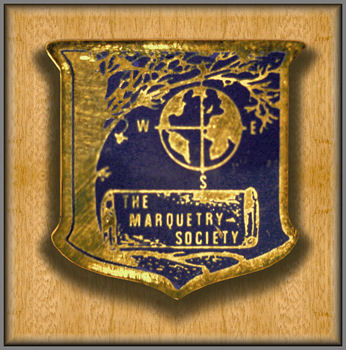 Hands up those who remember these gold lapel badges.
These badges were a "good seller" a few decades ago,
but, alas they are no longer available.
The example we have here is still in superb condition
and the brilliant shine almost made it impossible to
achieve a good macro photo without light bounce back.
However, after several attempts we managed to achieve
the above photo (phew!!)
---
Those of you who have attended the legendary shows and demonstrations where our
most respected USA representative Joe Monks has been in attendance, may well
remember Joe's most distinctive marquetry themed waist coat.
Joe's use of two lapel badges to make a marquetry style fob watch chain
is a superb example of Joe's expertise in adaptation.

Excellent work Joe!

---
Bill Lincoln's Riverside Restuarant
Back in 1976 the London Group celebrated its 25th anniversary as a Society Group
with a pleasant trip to Bill Lincoln's restuarant "Judes Ferry" and then on to
Art Veneers for a chance to purchase and acquire a goodly collection of
highly figured and rare veneers.
The Group was augmented by Mrs. Walker and her friend an Mr. Raper and several
members of the Hampton Group. It was a lovely day, only perhaps marred by the
usual thing which leaves one lighter in the pocket.
A splendid cake celebrating the occasion was organised by a member of the East
London Group, Mr. Eric Kennedy. He made it himself and it was a great credit to
him and everyone said they owed him their grateful thanks. It was said that it
was a pity they couldn't have a cake at every meeting, they thought it could
have created an upsurge in the group's membership!
The main people seen in the above photograph are, from left to right,
(starting with the chap wearing sun glasses):
Derek Austin, Alan Newnham, Eric Clarke, Alf Murtell, Tom Brewer, Bette Brewer.
If anyone can identify the other people in the photo, or enlighten us as to the
exact location of the "Judes Ferry" Restuarant, would you be so kind as to
e-mail us with the information so that we can update our archives.
Thanks for any help you can give.
...................................................
A Reply to our question :

...................................................
You ask for the exact location of Judes Ferry.

It is a pub/restaurant on the River Lark -
the river seen in the background of your photo, which is the boundary of the pub garden.

It is at Ferry Lane, West Row, Bury St Edmunds, Suffolk IP28 8PT
Telephone : 01638 712277

Their website is www.judesferry.co.uk

Kindest regards, Mark
...................................................
Thanks for letting us know Mark, we hope a lot of people will
now enjoy a visit to Judes Ferry. Ed.


---



...(to Memory Lane page 1) | (to Memory Lane Page 3)

---
If any of you, our readers, have any items you would think suitable for this page,
would you photograph them and send the picture to us by either e-mail
(as jpeg pictures) or, if an actual photo, to our "Contact Us" address.
We will be very pleased to display suitable "Memory Lane"
items on this page for everyone to enjoy.

---
Return to the News Page

or
select a page:
1 | 2 | 3 | 4 | 5 | 6 | 7 | 8 | 9 | 10 | 11 | 12 | 13 | 14 | 15 | 16 | 17