Welcome to page 8 of our Memory Lane feature where you will find lots more exhibits from
the early days of the marquetry movement and the formation of our Society.
This page features a fully intact marquetry hobby kit from the 1960's - or even (fingers crossed)
perhaps the 1950's. The price of the kit on the front label is in sterling - so that, predates it
to prior the introduction of the decimal monetary system. The untouched tube of
Balsa glue has managed to dry up to a solid block in the tube.
Luckily enough, because the light has not got at the veneers, they have retained their original
colouring wonderfully. In fact, the dark green colouring on the dyed veneer is as fresh as
the day it was first coloured. The veneers have not dried out and gone crumbly,
perhaps this is due to the solvent in the Balsa glue providing some moisture,
who knows? anything's possible here!
Anyway, please do enjoy this wonderful find from marquetry's formative years
along with us, thank you :
---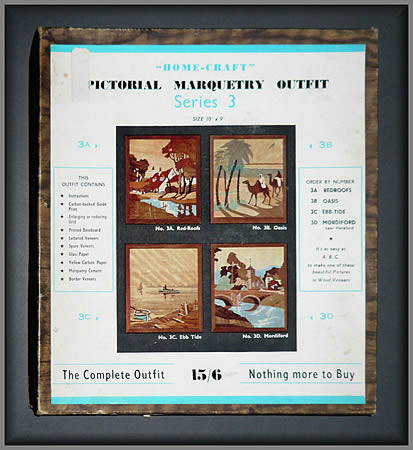 The unopened kit with an Aladdin's Cave of Marquetry Mystery inside!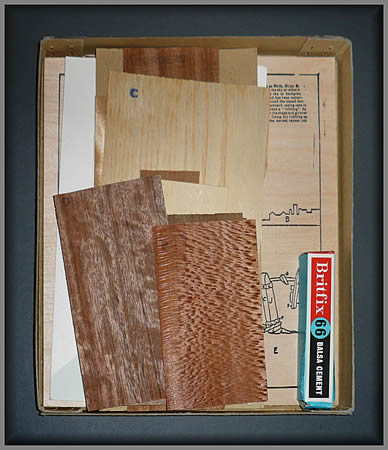 The contents of the box see daylight for the first time in years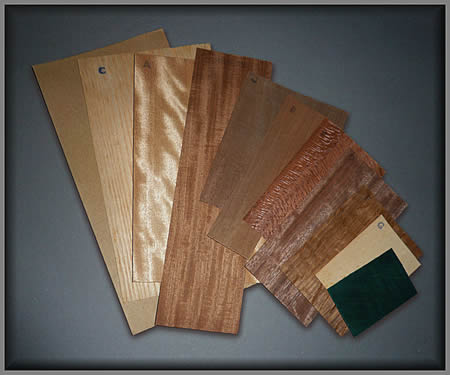 The main veneer selection laid out for inspection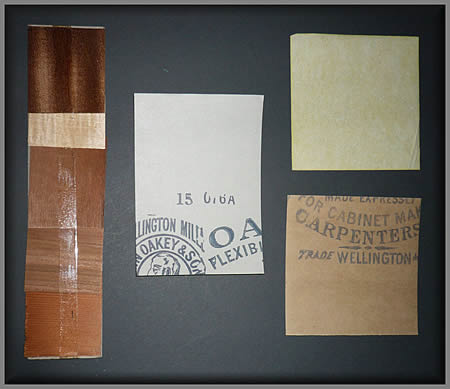 Some spare veneer plus two pieces of glass paper in coarse and fine grades and a single small sheet of yellow carbon paper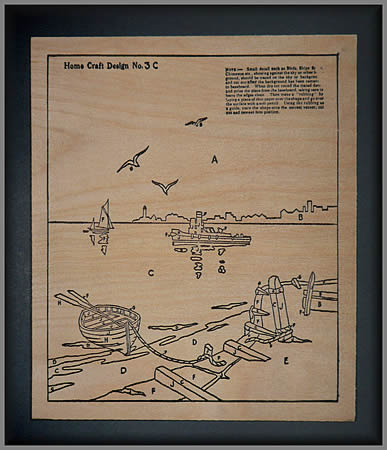 The picture design printed on the base board ready for "stick as you go" assembly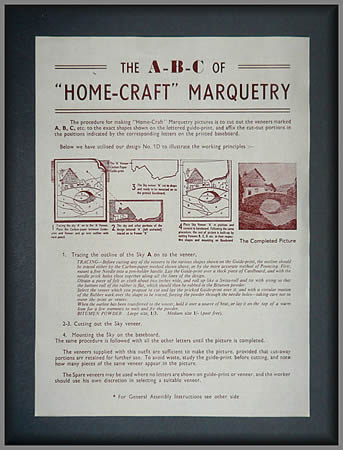 The Instruction Leaflet/Sheet
Over the next few months we will assemble this kit picture step
by step and bring you the process in these Memory Lane
pages. We think it should be an interesting project.

---



(to Memory Lane page 7) | (to Memory Lane page 9)

---
If any of you, our readers, have any items you would think suitable for this page,
would you photograph them and send the picture to us by either e-mail
(as jpeg pictures) or, if an actual photo, to our "Contact Us" address.
We will be very pleased to display suitable "Memory Lane"
items on this page for everyone to enjoy.

---
Return to the News Page

or
select a page:
1
|
2
|
3
|
4
|
5
|
6
|
7
|
8
|
9
|
10
|
11
|
12
|
13
|
14
|
15
|
16
|
17