This is the nostalgia section of the Marquetry Society web site where we attempt to rekindle old memories
of days gone by for marquetarians of a "certain age"!
Younger marquetarians and those new to the art/craft of marquetry may equally find those items
as fascinating as us "old hands" do.
It's amazing to find that so many of you still have stockpiles of these old marquetry themed
products in your collections. Please do keep on sending snaps of them in to us
cos' we "luv' 'em!" and we love displaying them in Memory Lane
for everyone else to enjoy :
---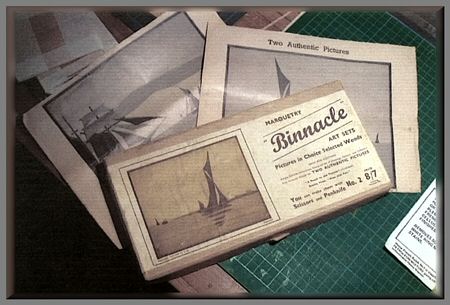 "The Binnacle Marquetry Art Set"
This marquetry kit was purchased in 1952 for the sum of 8/7d
(approx just under 43p today) and amazingly it's still complete.
The strange thing with this kit is that it advises you to cut and
shape your veneers with scissors and a penknife!
Just what sort of accuracy you could expect from such cutting
tools boggles the imagination.
---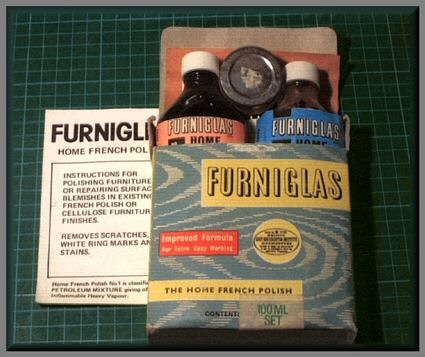 "Furniglass Home French Polish"
From around 1980 this French Polish kit is still very highly
regarded by all those who used this product.
Apparently this product had the quality of never cracking
and always retained a high gloss finish.
Furniglass was "bought out" by one of the major woodcare
product manufacturers a couple of decades ago, but this
"Home French Polish" kit was never reprised again.
---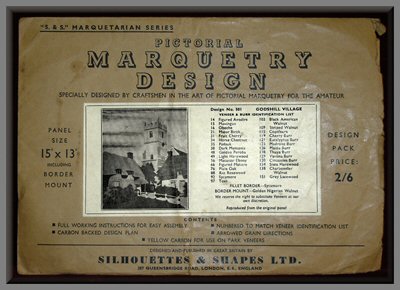 This marquetry kit design pack displaying the well known subject of
"Godshill Village" was produced by Silhouettes & Shapes Ltd.
That company later transformed into Arts Veneers who themselves were
recently acquired by Craft Supplies Ltd.
The marquetry kit industry has seen something of a renaissance recently
and newcomers to the art are finding these kits to be a superb way to
introduce themselves to the pleasures of marquetry.
Today's kits have come a long way since those early days, but I'm afraid
to say that the price of 2/6d (or 12. 5p in today's money) has changed
a little since then!
---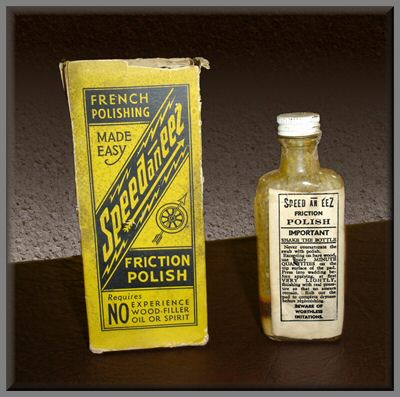 "Speed an Eez" Friction Polish is a product we don't see on the shop
or stores shelves any more.
The bottle's label states that it is a form of French Polish, but where that
"friction" side of its description comes into play, well, I'm afraid that
my guess would be as good as yours!
If any of you have actually made a picture using this varnish, would you
like send us a photo (e-mail or post) and we will display it here, thanks.
Further information on Speedaneez

Many thanks to Malcolm Thorpe for informing us that Speedaneez Friction Polish
is still being manufactured! Apparently it is used by makers of lace bobbins and
treen. The friction polish is applied to the workpiece on the lathe and it is
polished while spinning - that's where the 'friction' part of the title comes into play.
If you wish to know more, or would like to purchase some Speedaneez
Friction Polish to try for yourself, here is a link to the relevant page
on the manufacturer's web site: "Speedaneez Manufacturer"


---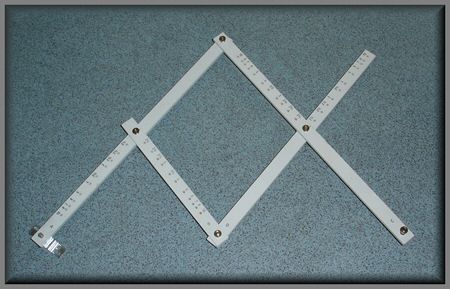 "The Pantograph"
Who remembers using one of these before photo-copiers and computers
came on the scene?
These instruments were a tricky little blighter to use with any accuracy, you
had to make sure that everything was securely clamped down (the paper and
the "hinge" at the bottom left hand corner) before you used the pantograph.
None the less, it did give you a rough re-sized image from which you could
make your working marquetry design.
---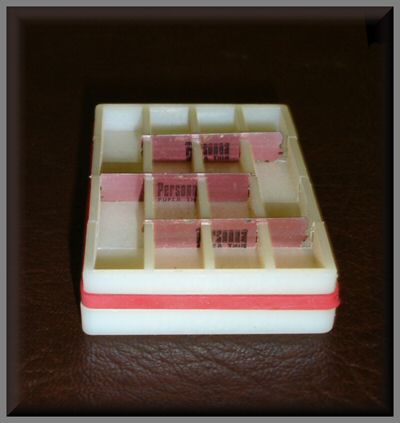 "The Speedy Surface Smoother"
A somewhat strange version of the familiar cabinet scraper.
This odd scraper used old razor blades clamped in a plastic holder
and was used in a similar fashion to the familiar sand paper and
sanding block . The quality of the "finish" could be a little suspect
we reckon, especially when you consider the corners of those
broken razor blades, you could end up with several "tram lines"
inadvertently decorating all your hard work !!
The instructions and the broken razor blade
container for the Speedy Surface Smoother

The blade container you see above was also
used as the tool with which you broke and
snapped the used razor blades for use in
your Speedy Surface Smoother.

An interesting tool, but we wonder how
many Marquetarians used one of these
successfully?

How many pictures ended up resembling
an unintentional checkers board?

If you have used one of these with success
do let us know - and we would be very
pleased to display your picture here as
evidence of this tool's usability.
---
This interesting letter comes from issue 15 of the Marquetarian dated July 1956.
Dear Sir, - As one's age changes, so does one's hobbies. Twenty years ago I read about Veteran Cars -- my memory returned to 1900 and my father buying his first car, and thought – "What fun it would be to own and drive a Veteran Car."
My brother and I heard of an 1899 Daimler ---- purchased it, and we had many happy days driving it, and taking it to Brighton .
We became interested in the Veteran Car Club, and when the Secretary, Mr. Wylie, died suddenly, I became Hon. Secretary and carried the Club during the War, and enjoyed keeping the Club alive; but with the passing of the years and the Club becoming, in my view, too large, I lost interest. I like to drive the true Veteran, manufactured before the end of December 1904 - one obtains satisfaction in driving a car that few could drive - but with the passing of the years the weather has some say in when it is advisable to be on the road, and so for some years now I have had to be satisfied in just looking at my old cars. All of them I have rebuilt - two of them took me three years to rebuild, the upholstery and painting only having to be done by experts.
It so happened that my Company was interested in a flower show at Leamington , and it was there, on a small stand, that my wife noticed a set of Marquetry. This she bought for me.
I fear I was not very interested until one evening when I had little to do - and then I had a careful look at it. A night or two later I tried my hand and found that I had stumbled upon something that was going to fill my spare time. Since then I have spent hundreds of hours working on pictures - some, my friends say, are well worth looking at.
Very unfortunately I shall be away at the time of your Annual General Meeting and during all this Summer I shall be away from home, so I shall be unable to make pictures. But I have set a target, and that is to try, as a humble beginner, to win, one day, your premier award at the Exhibition. Maybe, because of my age, Marquetry will be my final hobby.
Yours, etc..
(Capt.) J. J. CULLIMORE ALLEN, O.B.E., Oxford
---

---
If any of you, our readers, have any items you would think suitable for this page,
would you photograph them and send the picture to us by either e-mail
(as jpeg pictures) or, if an actual photo, to our "Contact Us" address.
We will be very pleased to display suitable "Memory Lane"
items on this page for everyone to enjoy.

---
Return to the News Page

or
select a page: 1 | 2 | 3 | 4 | 5 | 6 | 7 | 8 | 9 | 10 | 11 | 12 | 13
|
14
|
15
|
16
|
17